Timeline
This is the best timeline I could put together of events in Albert's life/career.
August 25, 1966:
Albert Belle is born in Shreveport, LA.
Spring 1985:
Albert graduates 6th in a class of 266 at Huntington High School in Shreveport, LA. Skip Bertman from LSU shows interest in him.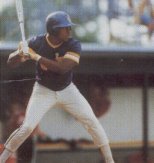 Spring 1987:
Albert, playing for LSU, goes into the stands at Mississipi State to chase after a fan who had been yeling racist names at him, calling him "Buckwheat."
June 2, 1987:
Albert is drafted to the Cleveland Indians in the second round of the amateur draft.
Fall 1987:
Belle is suspended during the College World Series by Skip Bertman for trotting out a single after he hit the ball off the wall.
July 15, 1989:
Albert makes his major league debut vs. the Texas Rangers, replacing the injured Cory Snyder. He goes 1-4 (a single) with an RBI and stolen base. His first major league hit was off of pitcher Nolan Ryan.
July 19, 1989:
Albert hits his first Major League home run off of Randy St. Claire.
July 24, 1989:
Belle hits his first Major League grand slam off of Eric Plunk.
June 1990:
Albert is suspended 5 games by Cleveland's management after trashing a sink in the Colorado Springs clubhouse during a post game tirade. On their advice he is admitted to the Cleveland Clinic for treatment of alcohol addiction and anger problems.
August 1990:
Belle comes out of the clinic and starts going by his given first name, Albert (Previously he went by Joey).
December 1990:
After reported clubhouse temper tantrums and misbehavior Belle's stint in the Puerto Rican winter league is cut short.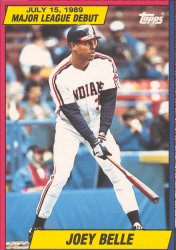 May 11, 1991:
Albert throws a ball at Jeff Pillar, a heckling Cleveland fan, and hits him in the chest from 15 feet away, leaving a welt on Pillar's breastbone.
May 14, 1991:
Albert is suspended 6 games for the May 11th incident and ordered to give one week's salary to charity.
June 1991:
Indians manager John McNamara calls Albert's June 6th run to 1st base on a double play ball the "most blatant lack of hustle" he'd seen in his career and demotes Albert to Triple-A Colorado Springs. This all happens at a time when Belle is leading the Indians in HRs and RBIs.
May 4, 1992:
Kansas City's Neal Heaon throws a ball behind Belle's head and he charges the mound, resulting in a 3 game suspension.
July 1992:
Belle is benched 2 games for "lack of hustle" by Indians manager Mike Hargrove.
September 4, 1992:
Belle hits 3 home runs vs. the Texas Rangers
May 13, 1993:
Albert charges the mound at Kansas City's Hipolito Pichardo.
May 18, 1993:
Albert is suspended 3 games for the May 13th charging.
September 22, 1993:
Belle calls security to silence a group of fans in left field at Cleveland Stadium who keep taunting him by calling him "Joey".
September 24, 1993:
At a billiards club in Cleveland, Belle has a run-in with William Kelley (an Oriole fan) because Kelley kept referring to him as "Joey". Belle admits he had a confrontation with Kelley but denies hitting him.
1993:
Albert steals a career high 23 bases, has a career high 16 assists, leads the AL in RBI, and is selected to the Silver Slugger team and the All-Star team.
July 15, 1994:
Chicago manager Gene Lamont accuses Albert of using a corked bat. Umpire Dave Phillips confiscates the bat and stores it in the ump's dressing room. In 1999 it is revealed that Jason Grimsley crawled 100 feet along a ceiling and dropped down into the dressing room to switch Albert's bat with one of Paul Sorrento's. After the game, the switch is discovered and Indians then turn over one of his other bats, which is found to contain cork. He has since stuck to his story that the White Sox stole his bat and corked it.
July 29, 1994:
Belle is suspended 7 games by AL President Bobby Brown for the corked bat.
1994:
Albert is selected to the Silver Slugger and All-Star teams.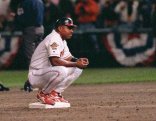 September 30, 1995:
Albert hits his 50th Home Run vs. Kansas City. He becomes the first player to ever hit 50 HRs and 50 doubles in one season.
October 24, 1995:
Belle yells at media in the dougout (in particular Hannah Storm) with obscene language as they attempted to conduct pre-game interviews with other Indians before the 3rd game of the 1995 World Series.
October 31, 1995:
After 5 Cleveland teenagers threw eggs at his house in suburban Cleveland, Albert chases after them in his car.
November 28, 1995:
Belle is convicted of reckless operation of a motor vehicle and is fined $1,000 because of the Halloween incident.
1995:
Belle is named
The Sporting News
and
Baseball Digest
player of the year. He leads the AL in Home Runs and RBI while also being selected to the Silver Slugger team and All-Star team. Additionally, he becomes the 1st player to ever hit 50 Home Runs and 50 doubles in one season. He finishes second to Mo Vaughn in AL MVP voting.
February 1996:
Albert blows off an event hosted by Ted Williams honoring 4 of baseball's best hitters. Later Roy Firestone flies to LA for an interview with him, but Albert refuses to talk to him.
February 29,1996:
Belle is fined $50,000 for the Hannah Storm World Series incident.
April 6, 1996:
Albert hits
Sports Illustrated
photographer Tony Tomsic, who was photographing him, with a baseball. He contends that it wasn't deliberate.
May 16, 1996:
AL President Gene Budig orders Belle to undergo counsling and perform community service
May 31, 1996:
After getting hit by a pitch in the 8th inning of a game vs. the Milwaukee Brewers, Albert hits Fernando Vina with his forearm on a double-play ground ball, blaming Vina for standing in the baseline.
June 4, 1996:
AL President Gene Budig suspends Belle and 2 others for 5 games after their roles in coming off the bench into a brawl in the 9th inning a game on May 30th.
June 14, 1996:
The Yankees vs. Indians game is delayed twice due to fans throwing objects at Albert (such as baseballs).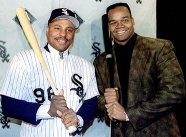 June 21, 1996:
Belle serves his suspension (reduced to 2 games) and is fined $25,000 for the Vina incident.
October 28, 1996:
Albert files for free agency.
November 19, 1996:
Belle signs with the Chicago White Sox for 5 years and $55 million.
1996:
Albert is selected to the Silver Slugger team and the All-Star team. He also leads the AL in RBI.
February 11, 1997:
Belle admits to losing at least $40,000 wagering on football and college basketball. This starts rumors that he may have bet on baseball.
February 20, 1997:
Cleveland fan David Henry claiming to be "on a mission from God" drives to Sarasota, Florida to scale an 8 foot fence and confront Belle and "demand atonement" for Belle's treatment of the Tribe fans because he was upset about Albert signing with the White Sox.
May 3-June 1, 1997:
Belle has a career high 27 game hit streak which ties the White Sox club record for longest streak set by Luke Appling.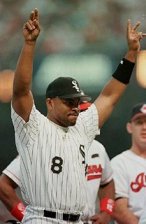 June 3, 1997:
Belle and the White Sox play the Indians at Jacob's Field. Angry, taunting fans throw debris at Albert in left field. Team owners add extra security for the last 2 games of the series and keep fans away from the porch overlooking left field.
June 6, 1997:
Albert is fined by the AL $5,000 for "making an obscene gesture" to Cleveland fans in the June 3rd game.
July 7, 1997:
After being picked to join the AL All-Star team, Belle declines an invitation to participate in the home-run derby, skips All-Star Game batting practice, and is the only player to miss the All-Star Game workout. He does not play in the All-Star Game.
July 17, 1998:
Albert hits his 300th career home run vs. the Orioles.
September 20, 1998:
Belle becomes baseball's active leader in consecutive games played.
October 23, 1998:
Albert becomes eligible for free agency because the White Sox refuse his demand for a $4.25 million raise over 3 years. His contract had a unique clause allowing him to demand he will remain one of the 3 highest players in baseball.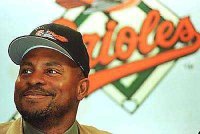 October 27, 1998:
Albert files for free agency and has until December 2 to sign with another team or he will remain on the White Sox.
December 1, 1998:
Albert signs with the Orioles for 5 years and $65 million, making him the highest paid player in O's franchise history.
1998:
Albert selected to the Silver Slugger team.
June 9, 1999:
Belle and his manager Ray Miller get in a shouting match in the 9th inning of a game vs. the Florida Marlins.
June 11, 1999:
Ray Miller sits Belle for a game after Belle played in 392 consecutive games.
June 22, 1999:
Belle puts up a joke sign on his locker about boycotting an exhibition game.
July 19,1999:
Belle posts yet another sign next to his locker that reads "1/2 year down, 4 1/2 years to go so don't fight it and show me some love!!! AB" and is written in blue and yellow marker.
July 21,1999:
False reports in the
Baltimore Sun
say that Albert waived his no trade clause. Jerry Manuel says Belle told him he was going to waive it a month earlier.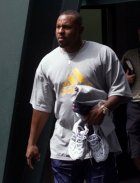 1999:
Albert achieves at least 30 HR and 100 RBI for the 8th season in a row. He also has a career high 17 outfield assists.
July 31, 2000:
Albert ends a career high no HR streak at 27 games/109 at bats.
September 2000:
Albert is injured for the first time in his career with a sore hip. He sits out 20 games from Sept 4-29. On the 29th, the Orioles release a statement saying that he has been termed "totally disabled and unable to perform as a major league baseball player" after doctors examined his degenerative right hip.
October 1, 2000:
Albert hits his last home run of 2000 and the last of his career in the final game of the season. You can watch a clip of his last home run on
YouTube
.
2000:
Albert achieves his 9th consecutive season of 100+ RBI but fails to reach 30 HR.
March 2001:
Albert's arthritic right hip causes him to go on the disabled list... forever.
Summer 2003:
After taking classes at Arizona State University, Albert Belle receives his undergraduate accouting degree from Lousiana State University.
November 7, 2003:
Belle declares free agency from the Orioles.
June 25, 2005:
Albert Belle is inducted into the Louisiana Sports Hall of Fame.
January 10, 2006:
After making his first appearance on the Major League Baseball Hall of Fame ballot, Albert receives 40 votes (7.7%). 390 votes were needed to be inducted into the Hall of Fame.
January 9, 2007:
Appearing for the second time on the Major League Baseball Hall of Fame ballot, Albert receives 19 votes (3.5%). 409 votes were needed to be inducted into the Hall of Fame. Belle is removed from future HOF ballots since he did not receive at least votes from at least 5% of the 545 ballots cast.
Back to Top